Hi, everyone! Welcome to the 2nd NA Crush Tourney hosted here at NA Alley!
Be aware there maybe spoilers in some of the advocate posts that support the new adult heroes. We've allowed the advocates to use excepts from their assigned NA Crushes' books as well as other teasers, so just be mindful of that when you read the posts.
Matches will run for 24 hours, 12 a.m. to 12 a.m. EST every Tuesday and Thursday. Voting will only take place here on NA Alley, and the polls don't allow multiple votes.
Please check out our "
NA Crush Tourney
" page for all up-to-date information regarding the Tourney, and last but not least, have fun!
LUCAS
(Easy by Tammara Webber)
Hi Everyone!! It's Jaime from Fic Fare!! I'm so excited to be a part of the #NACrushTourney again this year! When I found out who I got to advocate for squealing was involved! Lucas was and is my first NA love! This guy is who I judge all my NA guys against and they have some amazing things to measure up to!
If you've met Lucas, you know he's gorgeous… but what is it about him specifically makes him stand out in my mind?
"I stared at him as he sketched, his eyes moving back and forth from my face to the pad. At some point, his gaze began to move over the rest of me. As if his fingertips skimmed over my shoulders and down my back, my breath caught in my throat and I shut my eyes."
"Say stop, whenever you want to stop. Understand?"
I nodded.
"Do you want to stop now?"
My head moved back and forth to the pillow.
"Thank God."
"It's not that I don't want you. I lied, earlier, when I said I was protecting you. I'm protecting myself. I don't want to be your rebound, Jacqueline."
"Then why are you assuming that role? It's not what I want, either."
"What am I gonna do with you?"
"I can think of a couple things."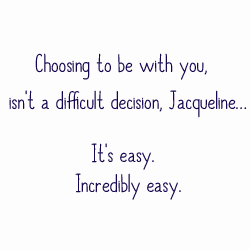 "I noticed you the first week. Not just because of how pretty you are, though of course, that played into it. It was the way you lean onto your elbows when you're listening in class, when something catches your interest. And when you laugh, it's never to get attention, it's just-laughter. The way you obsessively tuck your hair behind your ear on the left side, but let the right side fall down like a screen. And when you're bored, you tap your foot soundlessly and move your fingers on the desktop like you're playing an instrument. I wanted to sketch you."
He Wants To Do Things Right:
"Jacqueline say stop" I shook my head once, my palm sliding down to press against the evidence of what his body wanted from me.
"Don't Stop," I breathed, telling him that I wanted what he wanted, unconditionally. I kissed him back, sure in the knowledge that my actions and my words were all the confirmation he needed to continue.
"Say stop, please.

Please." The last word whispered was a plea I couldn't deny, even if I didn't understand the reason for it.
And then there's this:


Eyes blazing, he looked down at me. "Jacqueline?"
I blinked. "Yes?"
"The night we met—I'm not like that guy." His jaw was rigid.
"I know tha—" He placed a finger over my lips, his expression softening.
"So I don't want you to feel pressured. Or overpowered. But I do, absolutely, want to kiss you right now. Badly." He trailed his finger over my jaw and down my throat, and then into his lap.
I stared at him. Finally comprehending that he was waiting for a response, I said, "Okay."
He dropped the pad onto the floor and the pencil followed, his stare never unlocking from mine. As he leaned over me, I felt a heightened awareness of every part of my body that touched a part of his—the edge of his hip pressed to mine, his chest sliding against mine, his fingers tracing from wrists to forearms and then framing my face. He held me in place, lips near my ear. When he kissed the sensitive spot, my breath shuddered. "You're so beautiful," he whispered, moving his mouth to mine.
In addition to all these reasons above, there are some incredibly superficial ones that make him amazing that I have to also add…. He drives a motorcycle, he's got crazy sexy tattoos and a lip ring… and he works at Starbucks. *sigh*
But above all of these things, Lucas has dealt with his personal demons and come out on top. That alone should have him winning this competition. Join me in voting for the incredibly sexy and swoony Lucas Landon Maxfield! Spread the word by sharing on twitter #teamlucas #nacrushtourney14 and feel free to use the images!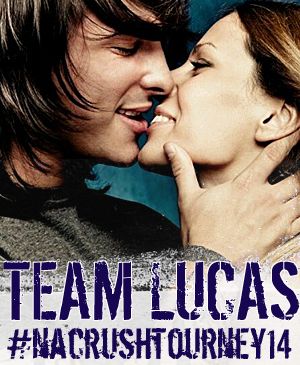 DAVID
(Lick by Kylie Scott)
Hello! Hello! My name is Lenore, a southern girl and founder of Nocturne Reads. I am beyond excited, can't contain my enthusiasm ahem, thrilled to be the advocate to the one and only David Ferris. I began blogging long ago, but not that many literary men have been able to steal my heart. What can I say? I'm picky. But bad boy rock starts are my weakness. I didn't stand a chance with David. I'm sure many of you feel the same way so why don't you mosey on down to the bottom of this page and just vote for him kay? Excellent!
For those of you that don't know him let me get down to the nitty gritty, David Ferris IS the ultimate crush. I mean, for one, just look at him. With signature long dark hair and deep blue eyes you will want to swim in, it is impossible not to stare.
"Frankly, those eyes were overkill. I'd have swooned perfectly fine without them."
Agreed Ev! We're all swooning over here! If the eyes aren't enough, David has tattoos covering most of his torso. To top it off, he isn't flashy. David is a down to earth rocker who prefers "jeans, scuffed black boots, and a couple of small earrings" over dramatic leather pants and studded belts.
Anyway, enough gushing over those looks! The best part about David is that there is so much more to him than a pretty face. He is charismatic, fun, sweet, but not perfect. He is a man you know.
David isn't perfect, but he is pretty darn adorable. There is nothing sexier than a man who isn't afraid to laugh, seduce, and share his feelings.
"How on earth did you manage to get my bra off without waking me?"
"He gave me a sly smile. "I didn't do anything else. I swear. I just … removed it for safety reasons. Underwire is dangerous."
David you can make me comfortable any time…
He is charming, and not afraid to show his feelings. David may be a smooth talker, but he means every sweet word he says.
"I married you, Evelyn, because you made sense to me. We make sense. We're a whole lot better together than apart."
"Love isn't always smooth or straightforward. It can be messy and painful … Doesn't mean it isn't still the most incredible thing that can ever happen to you."
Don't say awe quite yet, like I said, he means every word…
"Do you actually state what a pain in the ass I am in these songs?"
"Not those words exactly. No." He chuckled, his good humour returned. "You don't want me to lie and say everything's always fucking unicorns and rainbows, do you?"
Now did I mention he is a rock god?! Yep. What is more alluring than a man who can sing? Well that would be a man who can write sweet songs about you AND play them for you! David lives his life through music, and when things are rough or great, that is how he expresses himself.
Best part about David, though, is that he isn't afraid to admit his mistakes, and he will do everything he can to fix them. He will talk it through, find out why you are upset, and change his ways. That right there should give him about 10,000+ gold stars. (My actual man sure as heck has a hard time with that concept!)
"
Y

ou let go if you like, I'll hold on




Say no all you want, I'm not done




Baby, I promise you






Did you think I'd let you go?




That's never happening and now you know




Take your time, I'll wait




Regretting every last thing I said"
David is your next NA Crush Tourney winner. He is your dream man while still human. He isn't perfect, but he is pretty darn close! A hottie, a rock star, and sweet? You definitely can't find those everyday! Don't stop now! Look a shiny button with David Ferris beside it! Yep, that's the one to click!
"So, congratulations. You're [voting for] a rock star." – This is a modified quote for the tournament.