Hi, everyone! Welcome to the 1st NA Crush Tourney hosted here at NA Alley! We are a version of
The YA Sisterhood's Annual YA Crush Tourney
, and we would like to thank them for allowing us to host our own version of the tournament to celebration new adult book heroes!
Be aware there maybe spoilers in some of the advocate posts that support the new adult heroes. We've allowed the advocates to use excepts from their assigned NA Crushes' books as well as other teasers, so just be mindful of that when you read the posts.
Matches will run for 24 hours, 12 a.m. to 12 a.m. EST every Tuesday and Thursday. Voting will only take place here on NA Alley, and the polls don't allow multiple votes.
Please check out our "
NA Crush Tourney
" page for all up-to-date information regarding the Tourney, and last but not least, have fun!
----------------------------------
WINNER OF MATCH #3 IS COLT
Hunter from My Favorite Mistake by Chelsea M. Cameron
Hi everyone! My name is Laura and I run
Little Read Riding Hood
, a book review blog that has been in operation since March 2012. I review just about any fiction, and age range, and recently have been a HUGE fan of the New Adult stuff, thanks mostly to the always lovely
Ms. Chelsea M. Cameron
, author of
My Favorite Mistake
(among others). She is the reason we are here today, to talk about my boy - Hunter.
Hunter Aaron Zaccadelli is 20 years old, an even six feet tall, with piercing blue eyes, buzzed short brown hair that I just want to keep rubbing my hands over, and over, and over ... sorry, where was I? Oh yes, Hunter, always about Hunter ;-). He has several tattoos: the number seven on his left arm, a horseshoe behind his left ear, a scarab beetle in middle of his back, a star on his foot, and last but CERTAINLY not least, a shamrock on left pectoral. I wonder if they tasted like Lucky Charms cereal ...
Ahem, yeah, anyway, when I found out I was going to be Hunter's advocate I wracked my brain on how to tell you why he should go all the way. It finally came to me in the shower, why not let him pound it into your skull? (All puns, good and bad, intended).
Laura:
Hi Hunter, and congratulations on being nominated for the NA Crush Tournament! I've already told the folks a little about you, so let's skip the introduction and get to the good stuff - What is your favorite morning after breakfast?
Hunter:
Thanks, I should say that I was shocked, but come on. Mmmm, morning after breakfast. Well, with Taylor, I love going for seconds, and sometimes thirds…. but if you're talking about food, I love to make Nutella French Toast for her. It gets chocolate all over her face that I get to lick off, which leads to other things…
Laura:
We know you have a lot of tattoos - do you have a favorite? Why?
Hunter:
I think my seven tattoo is my favorite, because it was my first. Seven is a lucky number in a lot of cultures, and it's been a lucky number for me. Whenever I did sports as a kid, I always had to be number seven. I remember this one time, I had to fight this other kid to get it when I played peewee football. I got quite a stern talking-to from my dad, but my mom understood. She always understood my weird obsession with numbers.

Laura: What makes you so damn irresistible to the ladies? Is it the guitar? The voice? The tats? The body? Did I miss something? *drools*


Hunter: What's not to love? I'm charming, handsome, I can sing and the tats don't hurt either. I think, what most, if not all women want is to know is that someone finds them desirable. I'm not shy about sharing how I feel about Taylor. When I say that I want her, I do. All the time. She told me once that she wanted to live in bed forever, and I would like nothing more than to spend the rest of my life rolling in the hay with her. I love doing things for her, and making her laugh. I think if you can make a girl laugh, you've already got a head start. Having a rocking body doesn't hurt either. *wink*
Laura:
*shakes her head* Sorry, what were we talking about? Oh yes, you - one of my favorite subjects :-) It's time for a fast favorites list. You say the first thing that comes to your mind in response to what I say. Any questions?
No? Okay, color?
Red. But I'm also very fond of the color of Taylor's hair in the sun in the morning.
Movie? -
I always say Top Gun, but it's really Good Will Hunting. Don't tell anyone.
Vacation Destination? -
It's not so much about where I'm going as it is who I'm going with, but I do love going to the beach. Less clothing, more skin, lots of opportunity for lotion rubbing...
Room in the house? -
Whichever one my girl is in.
Boxers, briefs, boxer-briefs, or nude? -
Well, I prefer to be naked, but when I can't, boxer-briefs. But I prefer being naked. Did I mention that?
Laura: I, um, wow, is it getting hot in here? You and I both know you are the ultimate crush - but please tell all the ladies (and maybe a few guys) out there what makes you the best of the best?
Hunter: I'm the kind of person that when I love, I love hard, and I will do ANYTHING for those I love. When I (inevitably) screw something up and have a fight with Taylor, all I can think about is how I can make it up to her. Nine times out of ten, she tells me that I've been a dick, and nine times out of ten, I have. I'm not above admitting that I'm wrong, and not above grand gestures to prove that I'm sorry. Trust is a fragile and precious thing, and winning it back should be a challenge and should take time. Taylor's trust is my top priority, even more than her love (or her fabulous butt).
And people, if that didn't convince you, here are what some of the people who know him best had to say ...
Mase (Hunter's cousin): Because we share genetics and I'm not the only one with spectacularly good looks. *flexes*
Darah (Hunter's roommate): Because he always cleans the kitchen and he leaves the remotes in the right place. I like a man who isn't afraid of a mop.
Renee (Hunter's roommate): *holds scalpel* Because if you don't, I know enough about anatomy to take your organs out, rearrange them, put them back in and have your life be a living hell. Don't tempt me.
Taylor (Hunter's….?): Honestly, don't vote for him, because if he wins, he's going to be even MORE insufferable than he is now. I swear, if his head gets any bigger, his neck is going to collapse under the weight and he'll look like a broken bobble head. Seriously, DON'T VOTE FOR HIM.
Now Taylor, that is not very helpful! Other than that last comment, I think you now have a good idea why Hunter should win not only this match, but the tournament as a whole! And after you vote, make sure your friends know who to vote for by using the hashtag #hot4Hunter.
And now I leave you with a favorite Hunter quote:
"I don't like you. I don't like how your hair smells, and how I can't stop thinking about waking up and seeing your face. I hate how my bed felt empty when you left. I don't like how good you were with my family, especially Harper, and how I wanted to see you with them again, but not just as a guest. As a member. You're right. I don't like you at all." -Hunter
----------------------------------
Colt from Charade by Nyrae Dawn


Hey ya'll! I'm Kassiah from the
Fictionators
, and I am
stoked to be representing Colt from Nyrae Dawn's Charade.
Why should you be totally #TeamColt?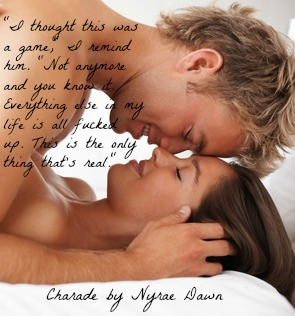 Colt is gorgeous, with messy dark blond hair, bright blue eyes, totally kissable lips, and rippling muscles. Oh, did I mention the tattoos?
"But when he smiles? Really smiles, it's perfect. Like toothpaste commercial, boy-next-door beauty that makes it really hard to be pissed at him."
Colt is totally swoon-worthy:
"I'm a prick half the time, but you make me better. You make me happy. I don't want to lose you. I love you. I don't want to lose you."
He's the perfect amount of sweet and smartass:
"I think you'd like my mouth, Princess. I've never had any complaints. I promise, it'll make you feel good."
Colt's the perfect guy for you. Join #TeamColt--you won't regret it.
----------------------------------
Who's Your Favorite Crush?